We may earn money or products from the companies mentioned in this post.
I recently shared that I left my corporate career after 10.5 years at my company. It was surprisingly one of the hardest decisions I have made. You would think after years of fantasizing about not working or being able to work for yourself, it would have been easier. That is why I had to spend hours on this post. It was a complex decision that built up over the years. This is the story of why I left my corporate career.
Why I loved my corporate career and company
I grew up there. I had been in several different roles and teams over my 10.5 years at my company. My co-workers came to my wedding. One of my favorite bosses held Rebecca when I brought her in over my maternity leave. I cried in so many of those conference rooms as I was going through leadership challenges. I was at my cubicle when I got the call my mom went to the hospital. They supported me at my mom's funeral. My VP at the time shook my dad's hand and told him how lucky they were to have me on the team. My dad smiled and beamed with pride, knowing that I was not only a great employee, but that I had an amazing support system. I had found another family in my corporate career.
I started to connect with other co-workers who were going through similar situations and learned that when I was open about my grief, losses and caregiving, other people either better understood me or felt understood. They were going through the same thing, too. I began to tell my story more — my team and leaders encouraged me to do so. My company had lunch and learns where speakers talked about mental health, caregiving and encouraged us to bring our whole selves to work.
Why I started My Sister Made Me Buy It
I started this account in November 2019 after one of my co-workers/friends encouraged me to do so because I was always giving beauty and hair recs at work. I would even say "swipe up!" during the conversation. The place where I had learned to speak up in meetings and realized that my opinions were worth speaking had also taught me how to improve my storytelling and take risks. I never had any plans to give up my corporate career to sell socks I liked on Amazon.
Inspired by Things I Bought and Liked to be able to just give recommendations and not have to worry about perfectly curated photos, I came up with a name "My Sister Made Me Buy It" because Missy and I were always influencing each other to buy things. And then I sat on it for a month. My mom had been gone a year by that point. I was spending my days in hospitals rooms as my dad was in and out of the hospital every few weeks. I was sad and lonely. All I wanted was to follow an Instagram account or read a blog where I can see myself in their words or stories. Then I realized – I have to become who I want to see.
I had been blogging since highschool – Xanga, Deadjournal, Livejournal. I mainly used it as a way to passively aggressively complain about my friends. However, I learned early on the community that can be developed while "blogging." That is why I looked to blogs when I was in the throes of postpartum anxiety in 2014. I knew I needed to feel like I had a friend – even if it was a parasocial relationship. When I finally posted at the end of December 2019, I did not think I would be able to leave my 20-year career in pharmacy because of it.
Even though I talk a lot about grief on my Instagram, I do not write about it much. I think I was too scared to have it all out there while still having a corporate career? Also, it is really hard to talk about without spending a good two hours crying afterwards. I think the closest I got to writing about my anxiety and sadness was this post from a few months after my dad passed – "Sunday Feelings: Things I am anxious about."
How I balanced working and My Sister Made Me Buy It
When I was taking care of my dad, it was easy to balance My Sister Made Me Buy It and my corporate career, as backwards as that sounds. Plus, I did not have as big of a following. Missy, Ben and I shared responsibility of taking care of my dad – we basically took turns living with him and then each of us had other responsibilities – mine was family calendar logistics and keeping tracking of medical stuff, making appointments, coordinating transportation to and from dialysis and getting him to appointments, etc because I had intermittent FMLA. Our family friend would stay with him on days he did not have dialysis and help with house chores. Before he got really sick in August of 2020, I would spend two weeknights at his house and then we would alternate every third weekend.
Since I was not at home half of the week, I had a lot of down time — especially during his hospital stays, which were about every month, multiple times a month. I had nothing else to do but shop and post while I was hanging out with him. He loved our account. He was so excited to see what we would post — he especially loved that people bought pens from us. One of my favorite memories was when a "WordPress for Dummies" book showed up in his Amazon order — he wanted to help.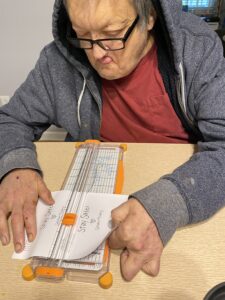 While I did my best and would bring Rebecca over with me to stay at my dad's, I did miss her. And James. Eventually, we made a little bedroom downstairs in our house and would bring my dad over. This was especially helpful as my dad got weaker and sicker because I would have James to help with transferring him from wheelchair to bed/toilet, etc. It was also nice because my dad did not like to be alone, and James never minded sitting with him in his room and watching movies and sports with him.
How Covid impacted my mental health
Once Covid started, it really made caregiving much harder. I was more anxious because I did not want my dad to get Covid – he would not survive. I did not want to get Covid, it seemed like I could die too. We tried our best to keep him out of the hospital because we knew he would not be able to go through being alone there without us. And we did not want him there without us either. Our mom always taught us to be as present as possible when a loved one is in the hospital because someone needs to advocate for them, and in my dad's case, get him snacks he was not supposed to have. We had our family friend stop coming over. And we stopped using the county provided dialysis transportation. It was just my family in our own little bubble trying to keep him alive.
He became more anxious and had a harder time at dialysis because he hated wearing a mask since he already had a hard time breathing. He was now dependent on oxygen. The few things that he loved doing, he could no longer do – like going out to restaurants and going to the movies. While he used to only wake us up a few times during the night, he was now regularly waking us up every few hours.
I don't want to go into detail the type of care we were providing because I want to protect his dignity – but it was a lot. It was very reminiscent of Rebecca's newborn days. Except we did not get maternity leave. We all still had to work. At least we did not have to go into an office now. We went on like this from March until June where he miraculously did not have any health issues that needed a hospital stay. My dad would always brag that he had been tested for Covid "like twenty times" and still had not tested positive. We told him to maybe not brag about that and just where his mask like he was asked to at dialysis.
The hospital stays during Covid were ROUGH. Only one person could visit during the entirety of the stay. He did not like being alone, and I knew the most about his health history so I was the designated visitor. I am also the oldest, so in a way I felt like I had to help protect my brother and sister from it, too? It was mentally taxing.
During his ICU stay, I was the only one who could visit. My brother and sister wished they could help. They wanted to visit.I was still working through all of this, but I cannot say my quality of work was where it once was. But I was working. And I was posting. Because other followers were going through the same thing, and it helped me feel less alone.
The end of my dad's life
We learned in September that my dad was in extreme heart failure. All of the hospital visits where he was too sick to receive dialysis had escalated his congestive heart failure. I remember when Missy called us bawling that the nurse had told her he did not have long to live.
I know we knew he did not have long to live, but no one had told us that. It caught us by surprise. It caught my dad by surprise. He never really got over his delirium and was so incredibly weak. He hated going to dialysis and finishing his treatments. Which also escalated his issues. The dialysis clinic would keep calling us and saying we needed to make decisions about hospice because they did not have the staff to support his requests. But they also would not allow us to go in and sit with him because of Covid.
We had different information from different people about what hospice meant for someone on dialysis. But basically it was a death sentence because you cannot live longer than a week without dialysis. And my dad just could not bring himself to make that decision.
The night before my dad died, he was having a hard time. I had gone from stressed, heartbroken, losing my patience to feeling so bad for him. I slept in the recliner by his bed with him that night. He thanked me because he was so scared. Then he told he me would go on hospice because he could see how hard it was getting. He just loved us too much and did not want to leave us.
He died the next night at home. I was with him the day before he passed. Working. He was so weak and just wanted someone to be with him at all times holding his hand. But I had to work. Our family friend was back with us and sat with him all day. His blood pressure must have dropped when we got him out of bed because he fainted. I paused working to call 911. He was taken away and said " I love you, bud" and then I went back to work.
When your corporate career becomes a part of your identity
I know that a lot of other people, especially women, struggle with when it is okay to leave a career you have worked so hard for. It makes it even harder when your company treats you so well. All I wanted was to show LinkedIn that I did have potential. That my company believed in me, invested in me and look where I was now.
It is not like I wanted to be a senior leader. I just wanted to work and be proud of where I worked. My family did not come from money -my parents both had good jobs and we grew up middle class, but I definitely do not understand generational wealth or what it is like to have a financial safety net. My papaw always talked about how proud he was of his kids and grandkids work ethic. Work ethic was the currency for praise in my family.
I spent a lot of money on my Masters degree – I did not want it to go to waste. At some point, my corporate career fueled my ego. And my ego needed to be someone who worked and "did it all." My ego wanted even more. However, I had to check it a few times because I KNEW my first priority would always be my family and not having to work all the time.
I thought now that I was not taking care of my dad, I would have so much more time. Like after taking care of someone for two years, I could do anything as long as I have Google Calendar. I did not realize that adrenaline helped fuel those two years. That I was in survival mode the entire time. Grieving takes time. Surprisingly, I could not grieve my dad as soon as he left us. I was grieving my mom. Like I just now had time, two years later, to really fully grieve my mom.
When your side hustle starts to take up as much time as your corporate career
One of the things I love about our Instagram is that I get to talk to people – especially since I started it during the pandemic. Some of my followers have been around since I first started and I have developed online friendships with them! It has always been important for me to answer DMs. I would say I spend at least 20 hours a week in my DMs. Sometimes I cannot keep up with them, but I try so hard to get to them all. I also try to dedicate time to checking out other stories and supporting my friends account and content so it can be shown to more of their followers. Then there is the portion where I am trying to create content. Take pictures. Videos I will never edit. Shop. Returns. Put together collages.
I love to shop, and so does Missy. It is hard to put into words what our account does because we kind of cover it all. I would check my DMs in the morning, sometimes at lunch, check my emails, check out sales, post after work, answer DMs all night/post and rinse and repeat. Then on the weekends I would try to dedicate to posting more sales or product recommendation. Or just talk to everyone.
I always prioritized my corporate career over Instagram because I did not think it could be a real career. I was too afraid to call it that – even though I loved it and I was spending more than 40 hours a week dedicated to it. There were so many ideas that I had that I thought I could get done, but I could never find the time.
I started to feel burnt out after my best friend of 28 years died at 37 in August of 2022. Her and I were the same age. I buried myself in work to deal with the grief. How could I quit something that was my main coping mechanism? Plus it was prime shopping season. Then my full-time job started to get busier. I could handle it though – I have handled a lot more.
I started to feel exhausted all of the time. And my memory was complete shit. I talked to my doctor about my lack of focus and memory. He said it is a symptom of grief. I started Wellbutrin and it helped me focus a little better, but I still felt so overwhelmed by everything. There was a time when I had such a good memory and now I was missing deadlines and forgetting about plans.
It felt hopeless to try and plan anything and I started to miss being able to feel like I had the time to workout or clean. I started to pull back a little on MSMMBI. I did not get on stories as much. Just posted picture here and there with text. Missy picked up a lot more responsibility.
I think it hit me when our basement flooded due to a frozen water pipe – I could not handle any additional stress. I was at maximum capacity.
When your daydreams takeover every thought
During the great basement fiasco of 2023, I was also looking into summer camp for Rebecca. Man, summer care for school-aged kids is a CHORE to coordinate. I just kept thinking " well what if I stayed home?" Could we even afford that? While my income from MSMMBI had exceeded my corporate career income, I was now used to two incomes. Chipping away at my student loan debt and going on vacations and trips more frequently than I used to felt really good. Plus, my kitchen counters are from 1987 and yellowed from 36 years of not being replaced. I really wanted to remodel my kitchen and we are past the good interest rates for a HELOC, so I just had to keep chugging along.
I started to feel jealous of every other job I would see when out and abou and dreamt about going back to work at the pharmacy again. Starbucks barista seems fun, albeit stressful. What about a bus driver? Our district needs them. They definitely didn't need me as a bus driver though. I had all of these goals to volunteer more and help be the change I wanted to see. Also? I wanted to be in a better mood on the weekends and weeknights. To see better numbers at my lab checks. I wanted to make the recipes I was saving on Pinterest. And to be the mom that was the first one to volunteer when the school sent out an email.
At some point, though, no amount of vacations are going to make up for the exhaustion of working constantly. No amount of designer bags or clothes will help you relax on a Saturday. No amount of cleaning services or laundry services will help you feel relaxed and less guilty about always snapping when talking to your daughter or husband. Or how you would just be too drained to talk to the people you loved the most.
When you finally understand the true meaning of a network
I remembered a talk a SVP at our company gave about taking risks. She said something along the lines of "let your network be your safety net when you jump." Cheesy. But damn. I guess I did see her point. I hated networking. Or at least I thought I did. I always thought networking was like going to events and small talk with strangers. My small talk is terrible – I only know how to big talk or talk about how rattlesnakes can still bite you and kill you after they are dead. However, networking can also be working with other teams. Helping out other people. Building a good reputation among your peers and leaders.
It was not until I started my Instagram account that I was really able to understand the impact of a network. I could physically see how supporting other women and teaching them what I knew would help me because they would teach me something they knew. I started to help out my friends by letting them know if something I know they liked was on sale. Or teach them how to use Excel to understand their analytics. You start to develop friendships with other accounts and realize they have some of the same thoughts and struggles you do. They help you out when you need it. Give you the advice you need to hear or the feedback you do not want to hear. They can help connect you to the right people at the right companies — just as I was doing for other accounts who asked for help.
Oh. Is this like the net that SVP was talking about? I met up with some old co-workers and I joked about quitting my full-time job thinking it was just that – a joke. However, I was met with — "yes! you should do take the risk! I can just tell how much you love Instagram. You are a natural!" I was? Wait, could I really do this? Could I quit my corporate career and do this full time?
What would my followers think?
I don't know. I guess in the back of my mind I see the DMs clear as day " don't quit your job – your job makes you relatable." Or I am browsing LinkedIn and see that someone with the same experience as me is already a VP. Or I keep thinking about the gap in my resume if I leave this job.
But wait. There would not be a gap in my resume. I am a brand. I run a small business. Is this my ego? I have a Masters degree. Someone with a Masters degree cannot just put that she sold socks and ranch dressing while in between jobs. Or could she?
I reached out to a few mentors of mine, talked to James, talked to Rebecca, and talked to my family and friends. I cried to Missy that I wish mom and dad were here so I could talk to them about it. But we both agreed they would tell me to stay at my company — they were both lifers at theirs when they died.
They all told me the same thing — take advantage of the time you have. So what if you do not know what the future of your Instagram account holds? You do not know what the future at your company holds either. Layoffs happen every year. Corporate America will always be there waiting when you want to go back. Try it out for a few months and see how you like it.
What would my family think?
I was driving Rebecca to school and I asked her what she thought about me leaving my corporate career. I told her there was no promises, but that I wanted to know what she thought. She was so excited. She told me I can volunteer at her school now. That we could go to the pool during the summer. That I would not be working all the time. I think that conversation with her is what sealed the deal and finally silenced my ego.
And I did it. I put my notice in at the end of February for March 31st. I love my director and felt so much guilt telling her. It was out of left field, but has been simmering for years. I was just telling her how happy I was in January. And I was. But I think this has been brewing since August. Always in the back of my mind. I just had to get the courage to check my ego enough.
I will miss my company and the people I work with. However, I am leaving on good terms. My network will be there for me if I need it.
I won't miss Rebecca, though. I only have one kid. And it is looking like that she is all we will have. When I worry about what people would think or if people would unfollow me, I just have to remember that my family is who matters. Well, and my trusted circle of friends.