We may earn money or products from the companies mentioned in this post.
All of the things Sarah loved from June ! I think the top monthly favorite probably goes to the blush as I have been using it so much in July, too!
The list
Traveling favorites | Makeup favorites | Non-specific favorites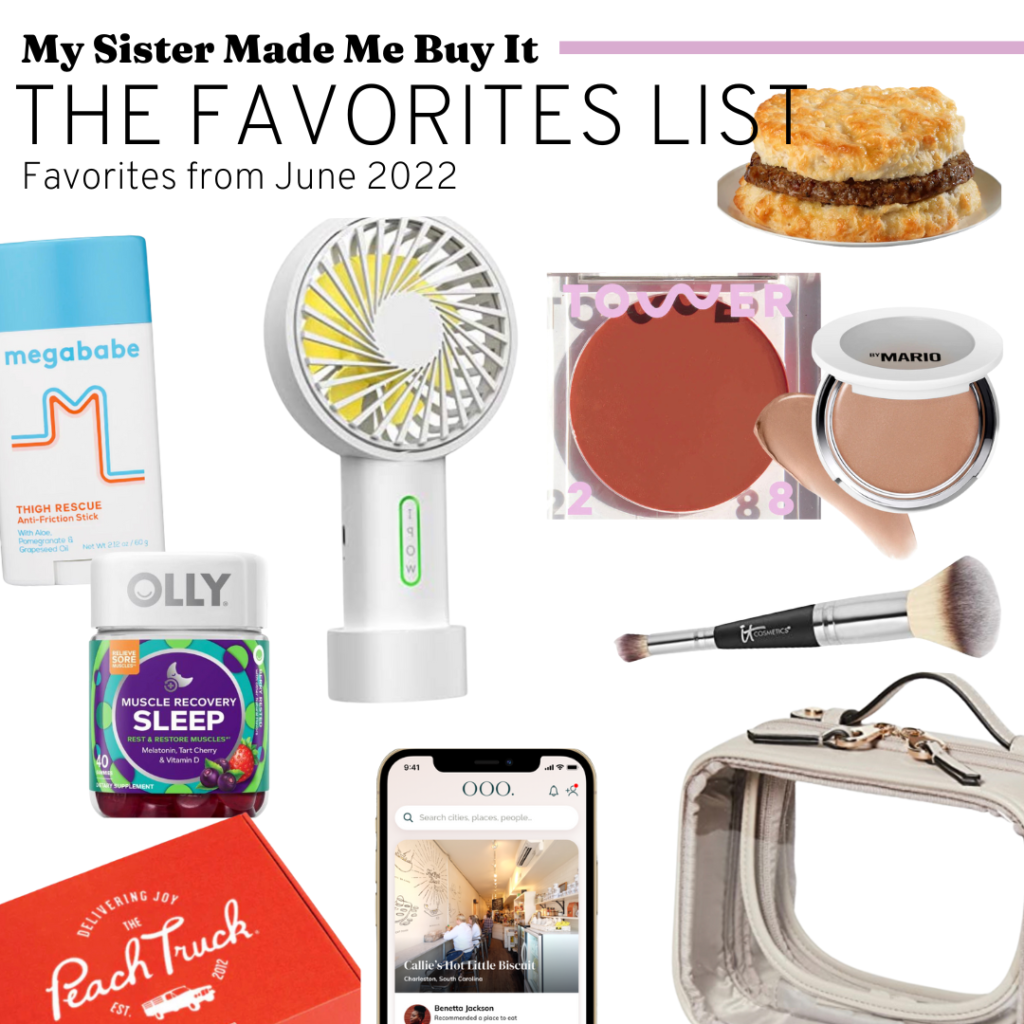 Traveling favorites
I love the Megababe Thigh Rescue stick. It is in my purse at all times – otherwise I will burn a hole in my thighs. I will put it on at the start of the day and it will last me a couple of hours before I need to re-apply.
Which brings me to my next favorite — the IPOW Portable fan. This portable fan is small enough to fit into a purse, but it comes with a stand! So you can stand it up and cool down if you are out and about. It came in clutch when traveling in Savannah and Gatlinburg!
Things I Bought and Liked was right — the Calpack Mini Toiletries case is worth every penny. The PVC is thick and cleans easily. It holds so much, yet does not take up too much room. Even though I did not want to spend $75 on a toiletries case, I bought the mini because I heard the regular size takes up a lot of room. It turns out if you travel a lot — it is worth it. I keep it packed with all of my travel sized items so I can just throw in my bag whenever I need to pack. Stop buying the cheap bags if you want this — just buy it. You will not regret it. They are also available at Anthropologie for $10 cheaper, but limited in color selection.
Makeup Favorites
While I love makeup, I have kept it pretty low maintenance *for me* this summer. I have been traveling every week this summer so I just wanted the essentials. The essentials included the Tower28 cream blush in Power Hour and Makeup by Mario SoftScupt Transforming Skin Enhancer.
The Tower28 blush is so good – I have three different colors and love them all. The Power Hour is my favorite. It is a good color for my complexion in that it gives me a sun-kissed and rosy look. I love it because you can use it on your lips or eyelids and it blends beautifully.
The Makeup by Mario Softsculpt enhancer is a cream bronzer that would be great for beginners because it easily sheers out and blends in well. I ended up getting the shade Light/Medium because I read you should order a shade darker than you usually would. I just love it because it gives you a sun-kissed glow with a little radiance. Sometimes it is all I wear + mascara.
I received the IT Cosmetics Heavenly Lux dual ended brush at a conference and fell in love with how convenient it is. The brush has made my minimal makeup bag because you can easily blend foundation, cream blush or bronzer while also using the other end for concealer or eye shadow — I just wipe off between different types of makeup. It gives a beautiful, air-brush makeup look!
No specific category favorites
I am not a doctor or a healthcare professional you should take any advice from. However, I struggle with sleeping, yet I don't take sleep aids. I always feel too sleep hungover anytime I use melatonin – so I quit trying. That is until I started to work out more with our trainer. I tried these Olly Muscle Recovery Sleep gummies and not only do they help me sleep without the hangover, I swear I am experiencing less muscle soreness. It could be placebo effect — again – not a healthcare professional. I am sharing because they made my list of favorites, but please always check with your provider before starting on any other supplements!
The other favorites are things that I really enjoyed, but you may not be able to purchase:
Peach Truck half subscription – Their peaches are SO good and juicy. We get a box every other week and it is something I really look forward to as I love fresh peaches and making overnight oats with them. We also gift a box to James' mom on Mother's Day — and she loves it!
Out of Office app– I downloaded this when we were in Savannah to look for shops and places to eat. It was so handy because I could follow all of the influencers I know and trust and then create my own trips. A lot of the times when I travel, I am too exhausted to plan anything. This was nice because I did not have to wade through hundreds of reviews and overanalyze. Usually that results in me doing an hour of research and then just ordering Doordash to my hotel room. It is free to download and use the app and you can follow us @SarahandMissy!
-Pimento cheese at Bojangles. We do not have Bojangles in Columbus (yet), so when we were driving home from Savannah after a cancelled flight, I made Missy stop. It turns out pimento cheese was back so I ended up ordering a sausage biscuit + pimento cheese and — OH MY GOSH. Heaven. We went down to Gatlingburg, TN with James' family the following week, so we had to stop there — twice.

I would love to know what your favorite products have been this summer – I always have product FOMO! Especially if it makes your life easier!
Most links contained in this post are commissionable links where I will make a commission at no extra cost to you.