We may earn money or products from the companies mentioned in this post.
If you follow us on Instagram, you know this winter I have suffered with the worst case of eyelid eczema. I am also trying to find ways to prevent my hair falling out in handfuls in the shower. And – you can always count on me for a good snack review.
I sporadically post my favorite products in the form of a "Sunday Six" post – sometimes it was weekly, sometimes monthly. I decided to change the format to a monthly post because I found myself not remembering to do them weekly. And our followers love these posts!
If you are only interested in a few things, you can jump to them using the links below:
I can make a small commission if you purchase anything through the links below. It is at no extra cost to you, but I appreciate your support!
January 2021 Favorites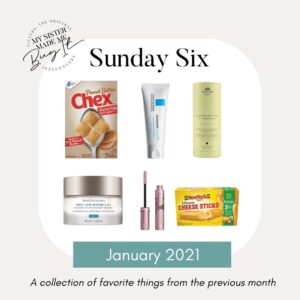 Eyelid Eczema
I really struggled with eyelid eczema this month — actually, I have struggled with it since October. Eyelid eczema is always something I have struggled with, but I think it got worse because I have just been crying a lot more frequently than I have since my mom died. My dermatologist did not seem concerned. However, I do want to get some labs drawn at my doctor's office because I read it could be caused by hormone imbalance.
Here are the things I tried:
Vaseline:

An allergist follows me on Instagram and told me to just put Vaseline on it. That helped make it not so itchy, but it took about 6 days to heal. Then I got like 3 styes in 3 weeks, and I made the correlation it was causing the styes. So I stopped the Vaseline.

Eczema Honey

I love Eczema Honey for my daughter's eczema. It really helps heal her flare-ups faster than any other non-steroidal treatment we have tried. However, it is sticky. While it does help my eyelid eczema ( I saw significant improvement in about 3 days), it is sticky and uncomfortable to apply to your eyelids.

Barrier Repair Creams

I tried the Elta MD Barrier Repair, SkinFix, First-Aid Beauty, Kiehl's Face Cream, Belif Moisture Bomb. Nothing was touching the eyelid eczema or helping to prevent it.
Skinceuticals Triple Lipid Restore 2:4:2 Anti-Aging Cream
I finally found relief with Skinceuticals Triple Lipid Restore 2:4:2 Anti-Aging Cream. I have never been that impressed with Skinceuticals products that I have tried ( Vitamin C serum and Retinol), but thought I would give it a chance since it had such great reviews and was 20% off through 987 Aesthetics & Wellness.
Starting out, I did a split-face comparison with other barrier restoration creams. The Skinceuticals won every single time. My skin just felt so bouncy and plump. The best part — my eczema was less itchy almost immediately. By the next day, it had drastically reduced.
I have never paid $128 for a face cream before- and I did not want to like it. But, I did. Why was it so good? I looked up their patents — there really is nothing on the market like it because of their patented ratios and ingredients. I kept sending pictures of my eyes to Vanessa at Goals To Get Glowing — did she notice a difference? She did. She also told me that her and another friend had been trying to find a cheaper alternative for two years and had not found one yet.
I know I could use steroids ( steroids thin your skin and I don't want to put on an area of skin that is already so thin!) or other non-steroidal creams, but the Skinceuticals does a great job and the best part is I can use on the rest of my face. I can almost always find 15% off, so while still expensive, at least I can find a deal. Check my Skincare Deals and Promos page for the most up-to-date promo codes!
As I previously mentioned, Rebecca has eczema. I learned from experience the importance of moisturizing your skin and then topping with an occlusive – something that prevents the moisture from drying out.
Since it seemed that Vaseline was causing styes, I was nervous to try Vaseline or Aquaphor to apply on top. Someone recommend the La Roche Posay Cicaplast Baume as a barrier cream. It contains zinc, which is the barrier protection found in most diaper rash creams. It is not as thick as a diaper rash cream, but it definitely helps lock the moisture in. You can find anywhere – Ulta, Amazon, Target, etc. If you buy on Skinstore, you can use our affiliate code "SISTER" for 25% off.
Raincry Shampoo
I found this shampoo through Vanessa at Goals to Get Glowing. I was using Pura D'or for thinning hair, but it was so drying. It definitely helped with the amount of hair that was shed, but made my hair so brittle.
When she mentioned she liked this shampoo because it helped with hair shedding, but also moisturized – I had to try it. I used it for the whole month of January and LOVE it. It has a great smell, lathers up well, and I have already started to notice my hair falling out less. Although, it could be because I am not as stressed anymore?
You can always get 25% off at the link above using code: SISTER.
Maybelline Sky High Mascara
This mascara took Tik Tok by storm — and for good reason. While I don't love how flimsy the brush is, it is great for volume and lengths. The best part is that it really stays on during cry sessions, even though I do not have the waterproof version.
There are some complaints it is hard to get off. I think it is because it is a hybrid mascara – it has both fibers like a tubing mascara and the paint like a regular mascara. So I always splash water on my lashes first to get the fibers off. Then I remove with cleansing balm! Works like a charm. I am wearing the washable "Blackest Black."
Snacks
What are some of your favorite products so far this year? Let me know in the comments!